POS solutions
A point of sale system allows to process all kinds of transactions, including credit card payments and manage all of the post-transaction operations that lead to customers satisfaction.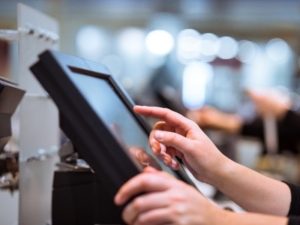 These kinds of systems are predominantly employed in the retail and hospitality sectors. They encompass special hardware, software and support which is designed for such purposes. Software for POS systems emerges at a fairly rapid pace. Every POS solution is moving to more compact systems, that operate on tablets and smartphones, not bulky POS machine systems that require additional software (Windows, MS SQL Server etc.) and cost thousands of dollars.
Many companies are moving towards a cloud-based point of sale solutions. Cloud-based POS system runs on the centralized server capacity, and as such, works fully online and provides you with an effective access to all control tools of your business from anywhere in the world. Which features should a cloud-based POS system provide? It should be reliable, available at all times, it shouldn't operate with sensitive data, it has to be user-friendly, responsive and easy to adjust for your specific needs. Such a retail point of sale solution is Linga POS.

Our partners








Engage our engineer for an expert say

Ipad restaurant point of sale solution
Linga POS is innovative, flexible and exceptionally customizable. It handles all of the everyday work for you, so your time will be spared for more important things. It lets you to access your data instantly from anywhere, anytime, worldwide. All you need is the Internet connection. Linga POS constantly synchronizes, providing you with the real-time data. Linga POS has a special offline feature where the iPads works independently without the need of a server, computer or another iPad. This retail POS solution even works without the Internet. No WiFi, No Internet, No Problem.
Linga POS components
Hardware:
Edge Devices – iPads, bill printers, kitchen printers, cash drawers.
Cables and Connectors – Ethernet/RJ45.
Management:
Configuration Management.
Fault Management.
Authentication/Authorization.
Database Management.
Basic linga POS implementation cost
Please, click on the component to see the detailed description. Approximate price calculation is based on the venue size, excludes taxes and service charges.
PRO plan
Single venue
Up to 50 guests venue size
iPad 9.7 Inch, 32GB, WiFi, Silver3 000.00
Device
Description
Qty
Approximate price AED
iPad 9.7 Inch, 32GB, WiFi, Silver
● Resolution 2048 x 1536.
● Storage Capacity 32 GB.
● Display Size 9.7 Inch.
● Up to 10 hours Battery Life.
2
3000.00
Epson TM-T88V POS thermal receipt printer, LAN900.00
| | | | |
| --- | --- | --- | --- |
| Device | Description | Qty | Approximate price AED |
| Epson TM-T88V POS thermal receipt printer, LAN | The TM-T88V Point-of-Sale (POS) thermal receipt printer is the latest addition to Epson's industry-leading TM-T88 POS printer series. It offers fast printing up to 300mm/second for both text and graphics, best-in-class reliability, new ease-of-use features and dual interfaces. | 1 | 900.00 |
Usimplicity Enclosure for 9.7 Inch iPad370.00
| | | | |
| --- | --- | --- | --- |
| Device | Description | Qty | Approximate price AED |
| Usimplicity Enclosure for 9.7 Inch iPad | iPad Countertop Stand with stylish and portable design. | 1 | 370.00 |
Cash Drawer for POS System180.00
| | | | |
| --- | --- | --- | --- |
| Device | Description | Qty | Approximate price AED |
| Cash Drawer for POS System | With a good cash drawer, you can be safe in the knowledge that your money is secure during business hours. | 1 | 180.00 |
Epson TM-U220B Kitchen printer950.00
| | | | |
| --- | --- | --- | --- |
| Device | Description | Qty | Approximate price AED |
| Epson TM-U220B  Kitchen printer | iPad Countertop Stand with stylish and portable design. | 1 | 950.00 |
Linga POS Pro license with unlimited users, unlimited products4 440.00
| | | | |
| --- | --- | --- | --- |
| Licence Plan | Description | Qty | Approximate price AED |
| Linga POS Pro license with unlimited users, unlimited products | | 2 | 4 440.00 |
Subtotal for hardware and software:9 840.00
Full POS hardware and software support500.00
Service
Description
Qty
Approximate price AED
Full POS hardware and software support  — onsite/remote, during  office hours  (09.00 to 17.00 Sunday to Thursday, excluding public holidays)

Create up to 10 new menu items per month.
Create up to 5 new users per month.
Change receipt layout.
Install and configure new POS hardware (receipt printers, cash drawers, iPads).

Excluding:

IT infrastructure support on sites (network, Internet connection, WiFi system, desktop support).

Required hardware  installation and configuration for the system operating (WiFi equipment, points of connection, cabling works, network configuration).

1
500.00
Subtotal for support:500.00

Enterprise plan
Multiple venues
Up to 300 guests venue size
iPad 9.7 Inch, 32GB, WiFi, Silver9 000.00
Device
Description
Qty
Approximate
price AED
iPad 9.7 Inch, 32GB, WiFi, Silver

● Resolution 2048×1536
● Storage Capacity 32 GB
● Display Size 9.7 Inch
● Up to 10 hours battery life

6
9 000.00
Epson TM-T88V POS thermal receipt printer, LAN 3 600.00
| | | | |
| --- | --- | --- | --- |
| Device | Description | Qty | Approximate price AED |
| Epson TM-T88V POS thermal receipt printer, LAN | The TM-T88V Point-of-Sale (POS) thermal receipt printer is the latest addition to Epson's industry-leading TM-T88 POS printer series. It offers fast printing up to 300mm/second for both text and graphics, best-in-class reliability, new ease-of-use features and dual interfaces. | 4 | 3 600.00 |
Usimplicity Enclosure for 9.7 Inch iPad 1 110.00
| | | | |
| --- | --- | --- | --- |
| Device | Description | Qty | Approximate price AED |
| Usimplicity Enclosure for 9.7 Inch iPad | iPad Countertop Stand with stylish and portable design. | 3 | 1 110.00 |
Cash Drawer for POS System 360.00
| | | | |
| --- | --- | --- | --- |
| Device | Description | Qty | Approximate price AED |
| Cash Drawer for POS System | With a good cash drawer, you can be safe in the knowledge that your money is secure during business hours. | 2 | 360.00 |
Epson TM-U220B Kitchen printer 1 900.00
| | | | |
| --- | --- | --- | --- |
| Device | Description | Qty | Approximate price AED |
| Epson TM-U220B  Kitchen printer | iPad Countertop Stand with stylish and portable design. | 2 | 1 900.00 |
Linga POS Pro license with unlimited users&products 23 976.00
| | | | |
| --- | --- | --- | --- |
| Licence Plan | Description | Qty | Approximate price AED |
| Linga POS Pro license with unlimited users, unlimited products | | 6 | 23 976.00 |
Subtotal for hardware and software:39 946.00
Full POS hardware and software support1500.00
Service
Description
Qty
Approximate price AED
Full POS hardware and software support  — onsite/remote, during  office hours  (09.00 to 17.00 Sunday to Thursday, excluding public holidays)
 

Create up to 10 new menu items per month.
Create up to 5 new users per month.
Change receipt layout.
Install and configure new POS hardware (receipt printers, cash drawers, iPads).

Excluding:

IT infrastructure support on sites (network, Internet connection, WiFi system, desktop support).
Required hardware installation and configuration for the system operating (WiFi equipment, points of connecti, cabling works, network configuration).

1
1500.00
Subtotal for support:1500.00