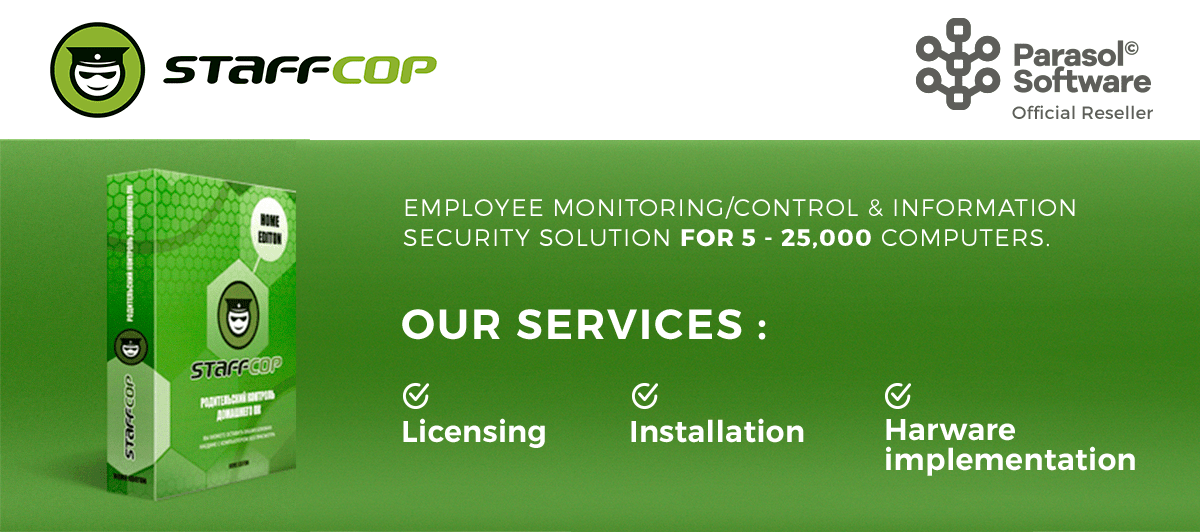 Main features of StaffCop Standard
Employee monitoring and performance control
StaffCop Standard allows you to effectively detect, prevent, respond, monitor and review any employee activity on company workstations to reduce risks of corporate data loss. Using StaffCop IT professionals thoroughly monitor company resources for existing data leaks or prevent them from occurring in a future.
Screenshot recording
Email monitoring
Websites monitoring
Files and folders monitoring
Keystrokes logging
Skype tracking
Search keyword tracking
Clipboard monitoring
Processes monitoring
Chats/IM monitoring
Social network monitoring
Encoded network traffic monitoring
Actions blocking
It is possible to block or allow websites, applications and USB-devices by adding them to blacklists or whitelists.
Website blocking
USB-devices blocking
Application blocking
Aggregate statistics of work time efficiency
StaffCop Standard aggregates the following statistics: what applications were launched, what websites were visited, and how much time these actions took in both – absolute and relative terms. This will help you to analyze the real work time of your employees.
Report generation
Work time control
Invisible mode
System supports: Windows 7/8/10 and Windows SERVER; MAC OS – 10.3 High Sierra (only); Under development (in future) Android and iOS (MAC OS)