Our partners







The best drivers go deep into a car insides and are always eager to get the hands over the best spare parts to improve the performance. When you need to upgrade your existing IT in Dubai (or other emirates) or to substitute a broken piece we are ready to provide you with all the necessary IT infrastructure components and associated services.
In Parasol Software we consider ourselves to be the most enthusiastic IT infrastructure provider in Dubai and UAE. We know that prominent IT hardware and its handy installation are a solid foundation for the productive business and family comfort.
This is why we care to assist you in choosing the best tools for the task and to execute a set-up and carry out a maintenance.

IT Infrastructure Components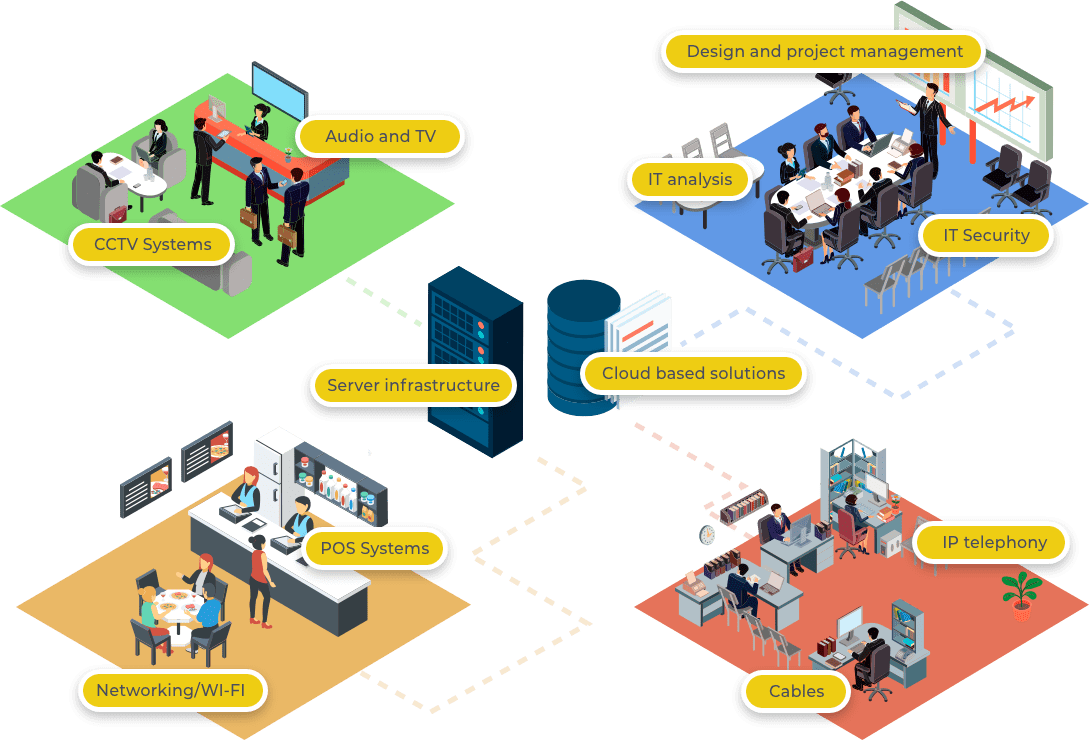 Engage our engineer for an expert say

Make tuning with the right IT infrastructure service company
Our goal is to integrate new IT infrastructure components in current system to speed it up, secure and prolong its operation.
Our engineers are experts in analysis and design of the IT architecture of any level of complexity: from basic to multitudinal. Our IT infrastructure company offers a state of art equipment accompanied by talent and knowledge of experienced professionals.
What are the components of IT infrastructure we offer?
IT analysis, design and project management is an indispensable part for building or renovating IT context. Our specialists will think over a plan and supervise a new IT Infrastructure implementation or an upgrade of the existing one.
Cables: we offer high quality Fiber Optic Cables, Patch Cords, Workstation Cords — everything to unite your IT system.
LAN and WIFI: an idea of user needs and communication purposes — single location domestic conjunction  or worldwide Network access — gives us a ground for IT infrastructure design and list of equipment from our storage (Routers, Firewalls, L2&L3 Switches, Hubs, Bridges, Controllers, Access Points, Antennas, Repeater, Fiber, RJ45/SFP Modules).
IP telephony connection: current requirements in respect to future business expansion impact design of the system and constituent components of your choice (IP PBX/L2 Switch with PoE, IP Phones).
Server infrastructure/virtualization and cloud based solutions: to choose and install optimal communication bridge to access key information (server itself — HP, DELL, IBM, Lenovo) and concomitant parts (UPS, Cables) it is vital to start with an audit of extant hardware and software.
CCTV: we learn your goals, technical environment and capabilities to build a bold surveillance system based on an optimal solution of IT infrastructure components (NVR/L2 Switch, IP Cameras, and accompanying accessories).
POS systems: we provide your store with an excellent sales venue technical support (Bill Printers, Kitchen Printers, Cash Drawers).
IT Security: protection is a number one priority for people and devices. We supply all the necessary tools to allow your employees, clients or family members to feel properly guarded.
Audio and TV: we got red-hot entertainment equipment to stuff a venue of your wish.
Tuning technological system with up-to-date IT infrastructure components you are getting closer to your aspirations, ambitions and expectations.

What our clients say